2.6 MILLION DIFFERENT JARS FOR NUTELLA
AFTER THE NAMES OPERATION IN 2013, NUTELLA CELEBRATES DIVERSITY BY LAUNCHING 2.6 MILLION JARS WITH UNIQUE LIMITED EDITION DESIGNS.
After the successful personalisation of its labels in 2013, Nutella goes one step further by offering consumers the opportunity to choose the jar which they think is more attuned to them among a special edition of 2.6 million jars. 2.6 million, all different from each other, with geometric and coloured shapes. A collector's offer made possible thanks to an innovative technology which allows as many labels as there are jars of chocolate spread to be made.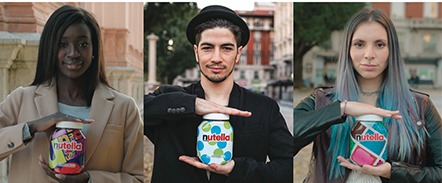 PERSONALISATION AT THE HEART OF NUTELLA
With over 50 years in the market, the famous spread has come in different formats. More recently, in 2013, the brand offered its fans the chance to get the famous jar by allowing them to add their first name on the label instead of the Nutella logo. This time Nutella goes further and suggests that its consumers choose directly in the store the jar that is more attuned to them among 2.6 million pots, each having a differently designed label.
To make it even more unique, the first 100,000 fans of the brand were able to benefit from a special offer which allowed them to receive a personalised smartphone case with the design of their chosen jar.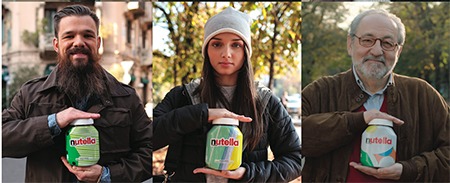 THE SMARTSTREAM MOSAIC SOLUTION
Two years of development were needed for Nutella to set up this complex and ambitious project. For this campaign, Ferrero Group has worked hand in hand with HP and its software programme Smartstream Mosaic. Thanks to a dedicated algorithm, the software made it possible to create the 2.6 million different combinations from 7 designs created by a designer.
AN INDUSTRIAL CHALLENGE
The other challenge was picked up by an Italian printer. The company had to develop a new process which would allow it to print the largest number of combinations on a single jar label roller. A challenge also picked up by Ferrero who had to adapt its production line to a longer printing process for this technology in comparison to its usual labelling process: 250,000 unique labels were printed per week, at a rate that could be up to 10 times faster using traditional labelling printing.
Finally, the last challenge was to successfully combine each Nutella jar with a Smartphone case with the same design. For this, it was necessary to attribute to each jar a unique code allowing, by means of an algorithm, to affix on to the smartphone's case the label design of the jar purchased.