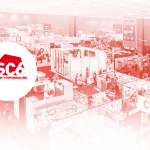 Who we are?
EDITOR OF PROFESSIONAL MAGAZINES AND AN INFORMATIVE WEBSITE aimed at the print and communications market.
TRADE SHOW ORGANISER WITH WIDE EXPERIENCE thanks to C!Print and CTCO (personalisation and promotional products trade shows) in France.
THE REASONS FOR THIS DEVELOPMENT
Knowledge of the market and the use of tools that allow us to 'read' the evolution of the industry.
A 'new-generation' trade show format:
A friendly atmosphere (central bar area)
Creative and demonstrative (Nova Live workshop)
Didactic and educational (conferences, workshops)
An event that takes into account the specific needs of brands and their suppliers.
Optimum services and affordable rates for exhibitors.
AN OUTSTANDING GROUP
A 'human' organisation, and therefore it is essential to be close to the players in the market and issues relevant to them.
>> With exhibitors, visitors and professional associations.
>> Emphasis placed on having communication tools available all year!
An organisation that has modern, effective marketing tools for promoting a new event:
>> CRM, direct marketing, social networks, market studies, etc.
An organisation specialised in the print and visual communications market, that knows the evolution of the market and the issues relevant to it.
656 EDITIONS IN SPAIN
Experience in the Spanish personalisation and promotional textile industry with Marcaje & amp;Textil and ¡TOP! Spain (2004 to 2011).
The Spanish market needs a new event to stimulate its industry:
.More modern and promotes exchange.
.More dynamic, with talks, workshops, etc.
.That supports the industry in the evolution of the market.