PAD'S WORLD MANUFACTURES BIODEGRADABLE, REUSABLE AND UNBREAKABLE CUPS
THE CTCO EXHIBITOR PRODUCES THE FIRST CUP THAT REDUCES YOUR ECOLOGICAL IMPACT
100% manufactured  in Spain, Pads World innovates by assuming the industry's commitment with the environment, and launches the first recyclable and BIODEGRADABLE plastic cups.
These cups are high quality, unbreakable, reusable, recyclable and are manufactured with special "polymaterias". These polymaterials convert the plastic PP Polypropylene and will auto-degrade as time goes by, avoiding plastic waste. This property is officially certified.
This new property does not affect the 360º IML (in mould labeling) printing system that PADS WORLD uses. This allows printing and customizing in high definition, also ensuring unlimited use in dishwashers. Its food use, durability, reuse and advertising impact are guaranteed.
PADS WORLD manufactures biodegradable cups and sell them in the full range of models and capacities of reusable cups that the company has in its catalogue. Ideal for an environment and a society increasingly concerned about the climate, the planet and the optimization of natural resources.
In this illustration we can see the different times of degradation of various objects, including padsworld glasses, which only take 2 years to disintegrate: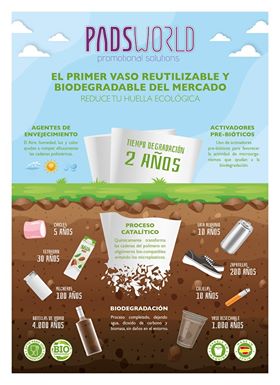 In the last edition of C!Print Madrid, visitors could check the quality of the Pads World glasses: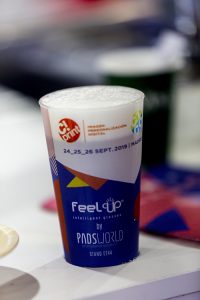 Pads world is an exhibitor of CTCO. Do not miss the next edition of the leading event of visual communication, printing and personalization on 29, 30 September and 1 October in Madrid.