Aiming at the fashion benchmark with Kornit Digital
Serigaur expands its digital textile services with Kornit Storm II
Serigaur, located in Spain, specializes in the production of industrial serigraphy, promotional goods, work clothes, sportswear, fashion, and general communication and printing applications. The company services advertising companies, private companies, but also new and established fashion textile brands. Especially the latter proved to be a booming market segment. The growing client portfolio came with an increasing demand for versatility in applications, volumes and service, urging Serigaur to consider new investments. To accommodate both the increase in production of digital textile printing and the interest in a web-to-print service offering, the Kornit Storm II provided the green and versatile answer Serigaur needed.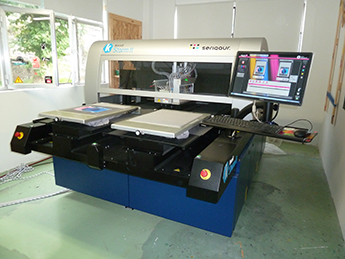 "The fashion industry is our key market. We strive to become the benchmark in terms of digital textile printing and to validate Serigaur as the go-to company for anything print in this area of expertise. We're determined to work hard and we're confident the Kornit Storm II will help us to achieve our goals." explains Ander Zuaznabar, General Manager of Serigaur.
Trying and trialling it on for size
Serigaur started servicing digital textile printing customers in 2016, but quickly noticed their printing equipment fell short in terms of productivity and delivery.
Zuaznabar elaborates: "We're familiar with the Kornit reputation and we were impressed with the uninterrupted production capacity the Kornit Storm II has to offer thanks to the two-pallet configuration. When we saw the perfect quality it delivers on a broad range of textiles, we knew we needn't look further."
They can now print on a wide range of substrates ranging from cotton to polyester, cotton and polyester blends, lycra, viscose, silk, leather, jeans, linen, wool and much more. Cotton garments variety is the company's specialty in general, and they rely on the Kornit Storm II for t-shirts, bags and industrial textile.
Zuaznabar specifies that the decision did not happen overnight. "We don't say no to customer requests. Thanks to our experience, we test and apply parameters until we find the right impression point to satisfy the customer. Before committing to Kornit Digital, we carried out ink adhesion and elasticity tests, and we even bought an industrial washing machine to test the textiles. Nothing less than the best for our clientele. We've put the Kornit Storm II to the test and it certainly delivered."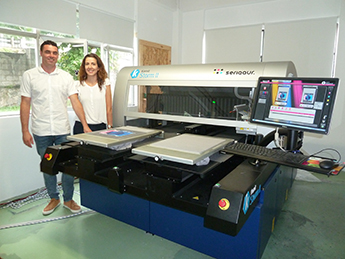 The Kornit Storm II is designed specifically for small and medium-sized businesses; it offers a fully automated workflow that allows quick activation of the services demanded by the fashion sector. Fashion brands come to the brand for specific specialty printing, but this also requires a higher flexibility on their part. Being flexible in order to offer flexible services requires the right equipment.
"We knew we needed the perfect machine that would enable us to broaden our current market scope, yet also help us deal with the vagaries of these markets. The Kornit Storm II offers a production capacity of up to 150 light garments or 80 dark garments per hour, combining white and CMYK printing in one single pass. Whatever the market throws at us, we know we can handle it." Zuaznabar notes.
The perfect fit on all fronts
Serigaur had a few prerequisites for the machine. First off, the printing process had to be very simple, so their team could be as flexible as they wanted to be for customers. The innovative NeoPigmentTM process in the Kornit Storm II incorporates an automatic pre-treatment process in the production routine before making the impression. When printed, the product just needs a dry in the oven to be fully ready. They even had to purchase a new oven to accommodate the large production output of the Kornit Storm II.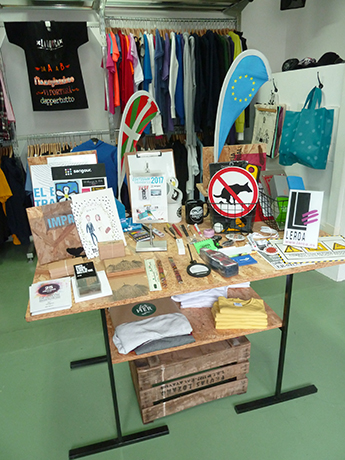 Textile printing also requires a green mind, skill and toolset, Zuaznabar stresses.
"The Kornit Storm II uses 1,5 litres of water based bulk inks. Serigaur is committed to taking its ecological awareness to the next level, which is why we've always opted for water based inks. This allows us to carry out more sustainable jobs and work with, for example, organic cotton. This feature was extremely important to us."
But above all, the machine had to deliver in terms of versatility and quality.
"The production speed and the quality that comes with, are unbelievable. We thought we knew, but we had no idea. We're amazed at what this machine achieves. Even at the 20% capacity it's currently running on. We have big plans to expand our growth margin and quickly attain a 100% production capacity. And if we surpass that, we won't hesitate to turn to Kornit Digital again." concludes Zuaznabar.