THE PLUG&PLAY WORKSHOP AND C!PRINT SESSIONS
PLUG&PLAY AND C!PRINT SESSIONS ARE THE PERFECT OPPORTUNITY FOR VISITORS TO IMMERSE THEMSELVES IN TECHNOLOGICAL INNOVATION, BASED ON REAL-LIFE PRODUCTION AND MARKETING PROCESSES, RIGHT AT THE HEART OF THE C!PRINT TRADE SHOW.
The PLUG&PLAY spaces are areas of trends, innovation and experimentation within the show. These areas allow visitors to face the challenge of customizing objects, textiles and/or messages.

PLUG&PLAY PLANTA ALTA:  A WORKSHOP ON CUSTOMIZATION OF PROMOTIONAL OBJECTS AND TEXTILES
T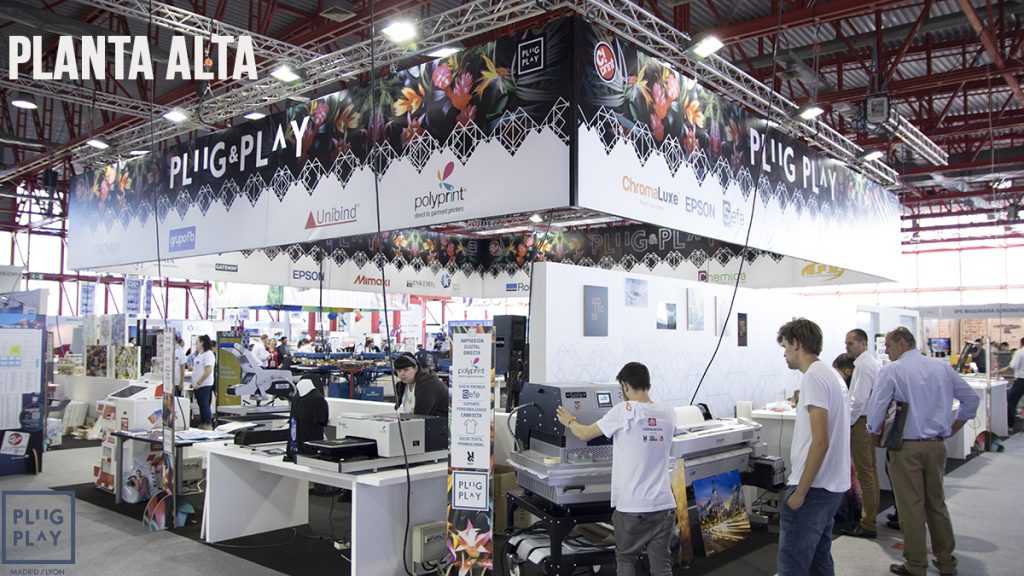 his workshop has the objective of exposing the most innovative product customization techniques that were present in this space to create a complete production chain, from the online customization to the final product.
Every year, a dozen or so product customization techniques are present in this space to create a complete production chain, from in-line customization to the final product.
In this space you will discover what's new in operation and see in real life what the machines can do, in order to exploit their full potential!
If you want to take part in this workshop, don't miss it in this fifth edition on the 25th, 26th and 27th of September 2018 in the Glass Pavilion of the Casa de Campo in Madrid.
C!PRINT SESSIONS (entreplanta): A PROGRAM OF CONFERENCES
In this area, visitors will be able to discover the full potential of t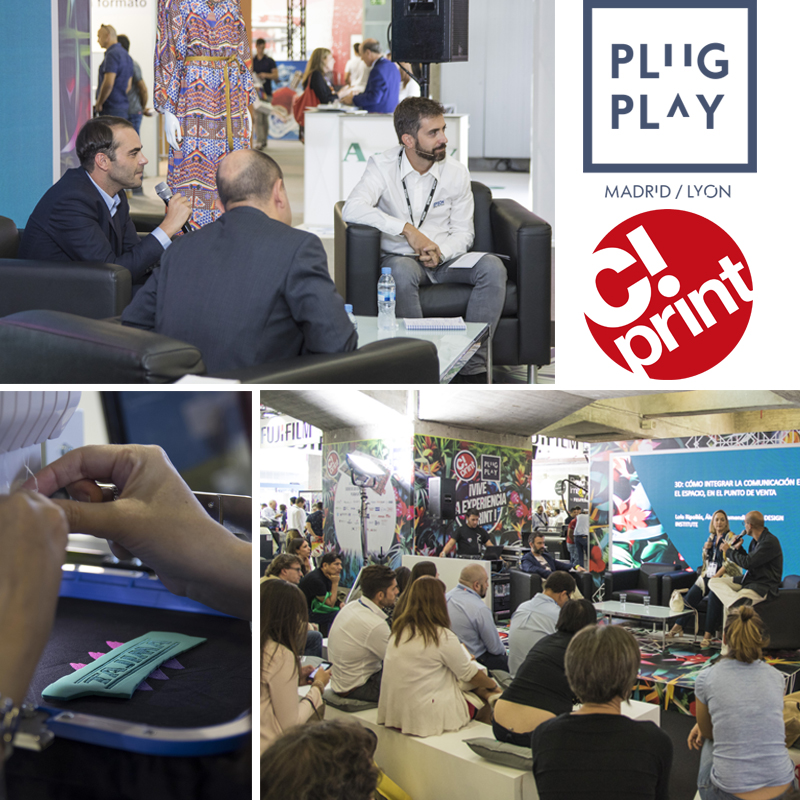 he new technologies presented by the manufacturers, as well as the new possibilities they offer.
These contents will provide the visitor with:
More easily identify the needs and constraints of the purchasing processes of designers, decorators, architects, photographers, advertisers or brands.
To be equipped with the best materials according to the target markets.
Structuring your offer, choosing the right technology for your projects and advising your clients on trends.
ALL OF THIS WILL BE DISCOVERED IN A FEW MONTHS, THE FIFTH EDITION OF C!PRINT MADRID WILL BE HELD ON THE 25TH, 26TH AND 27TH OF SEPTEMBER 2018.
C!PRINT SESSIONS (entreplanta): INTELLECTUAL CONTENT AREA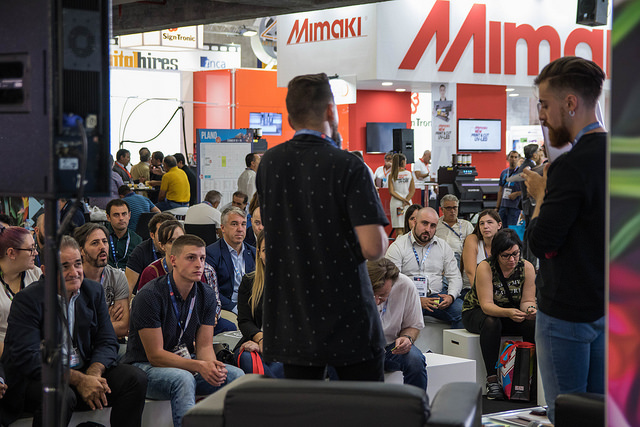 In this area, C!Print dedicates a space to visitor training on the trends in the different markets and, together with expert speakers, immerses itself in the current situation of the sector.
Round tables, conferences, presentation of success stories and much more in this area that will have an exquisite program for the visitor.
Programme 2017





Visitors will find something to inspire them and evaluate new potential markets: interior decoration, retail, visual communication, etc.
What topics were presented in this last edition?
Printed interior decoration
Design of retail space: personalization solution at the point of sale.
Photography
Textile printing: decoration of textiles, drapes, etc.
Relive in images the experience of C!Print Madrid 2017
[alpine-phototile-for-flickr src=»set» uid=»79041408@N06″ sid=»72157660948372808″ imgl=»fancybox» crel=»album» style=»gallery» row=»5″ grwidth=»1000″ grheight=»800″ size=»240″ num=»30″ shadow=»1″ highlight=»1″ curve=»1″ align=»center» max=»300″ nocredit=»1″]
PLUG&PLAY: PRODUCT CUSTOMIZATION
Nearly a dozen product personalisation techniques will be on hand in this space to create a complete production chain, from online personalisation to the final product.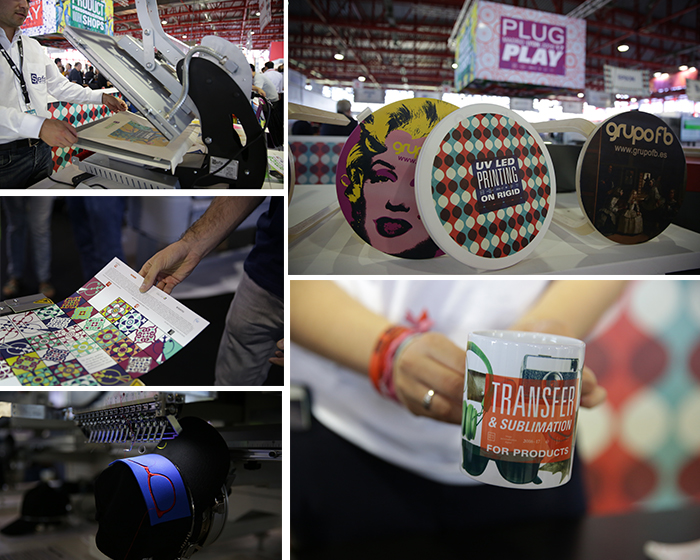 From inkjet printing and sublimation transfer to laser engraving and cutting, 
digital technologies transform promotional products into marketing tools before your very eyes
, and reinforce brand image in the process.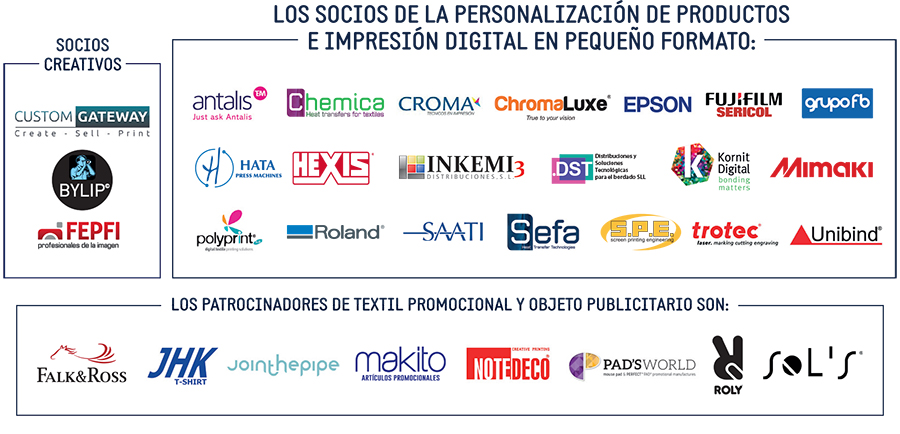 TEXTILES:

Textile products can be personalised with a wide range of techniques adapted to the production volumes and level of quality you're looking for.
At the PLUG&PLAY workshop, you can explore the characteristics of these technologies: direct inkjet printing onto items like running shoes, heat transfer from a printed film (FLEX) onto handbags, screen printing on T-shirts, embroidery on caps, and more. Visitors can try out their personalisation options and identify the techniques that will work best for their products.
IMAGE:
When choosing your images, no matter what kind of surface they're printed on, print quality is an important consideration. Digital technologies offer a new alternative with a traditional twist on photo editing. A dedicated workshop equipped with a large-format hot press lets visitors print their images on different materials like aluminium sheets, wood and even ceramics.
INTELLECTUAL CONTENT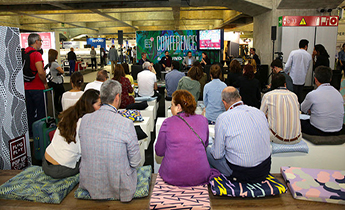 Creative workshops on different techniques, led by industry experts, will complete the PLUG&PLAY demonstrations and enhance your experience.
Come and experience personalisation techniques in practice at PLUG&PLAY, and develop new products with considerable added value.